The premium photographer for iris photography in Essen, Nürnberg and Oberursel (Taunus)!
take a look at our short intro video to iris photography to get a quick glimpse of what awaits you..
the Foto Hirsch team is looking forward to working with you!
Foto Hirsch stands for...
Unser Herz schlägt für Fotografie und rundum zufriedene Kunden. 
Bei Foto Hirsch hast Du jederzeit einen Ansprechpartner – im Studio vor Ort und per Telefon / E-Mail. Alle Wünsche werden persönlich beim Shooting besprochen.
Wir sind Profis und nutzen unsere Erfahrung sowie das beste Equiptment, um Dir überragende Ergebnisse zu liefern. Unsere Bilder sprechen für sich!
Foto Hirsch macht Iris Fotografie zum besonderen Erlebnis für die ganze Familie. Shooting, Service und Bilder werden den höchsten Ansprüchen gerecht.
Wir lieben Details! Daher shooten wir mit 61 MP – häufig 2x so viel wie unsere Mitbewerber. In der Nachbearbeitung wird aus Deiner Iris ein echtes Meisterstück.
Unsere Preise sind transparent für jedermann einsehbar und,  Bezogen auf unsere Premium-Leistungen und die Qualität der Produkte, absolut fair.  
 Als kleines Dankeschön für Deine Google-Bewertung pflanzen wir einen Baum. Wir arbeiten in allen Studios digital – Deine Rechnung kommt papierlos per E-Mail.
The Voice of Our customers
Christina Röder
2022-05-16
Sehr netter Kontakt und wunderschönes Ergebnis. Es wurde auf unsere Wünsche Rücksicht genommen und alles zu unserer vollen Zufriedenheit umgesetzt
Zeljko Matic Oenning
2022-04-13
Super 👍
Steve Wunderle
2022-03-29
Der Termin war sehr angenehm. Ein tolles Team und vorallem super geduldig. Das Bild ist echt schön geworden und ich freue mich schon es in meiner Wohnung als Eyecatcher zu platzieren…
Minchen Bienchen
2022-03-19
Sehr geduldig und schöne Fotos. Das Weihnachtsgeschenk ist gelungen 😊
Mal eine etwas andere Bewertung, habe angerufen aus eigenem Interesse und den Fotografen nach seiner Meinung zu veschiedenen Kameras gefragt. Dieser vergleich telefonisch gleich meine Favoriten und teilte mir seine Meinung mit. Super Service und sehr freundliches Personal. Nur empfehlenswert.
Das Personal war sehr freundlich und nett coole Bilder wir waren als Familie da und haben auch unseren Hund fotografieren lassen es ist echt super sehr interessant was ein Auge so für Farben enthält
creating art from your eye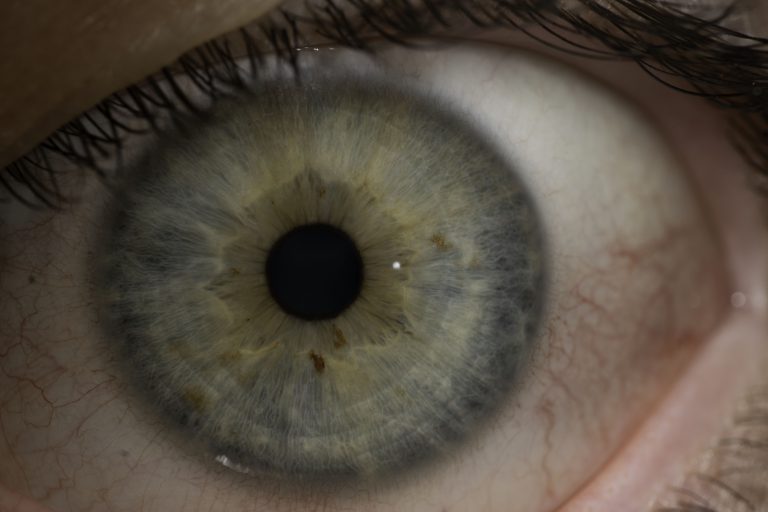 Everything begins with the picture we take. The shot must be perfect because final result depends on the initial image quality! Perspactive / Angle, lighting,  focus and reflections all need to be accounted for.
This is a bit complicated, as the model being photogtraphed – your iris – is constantly in movement. Even if you are trying your best to remail still like a stone.
As soon as we get that perfect shot, we are done and can proceed.
On to step 2… 
2. professional Post-Processing
Once the picture is captured and you are already on the way back home our second job begins. Post Processing. Our job gets so much more difficult as not all  images are as perfect as this one.
In our own proprietary multi-step process, we will professionally enhance each taken image to make sure that all details of your iris are visible. We use a combination of Adobe Lightroom and Photoshop to make these adjustments.
When seen in this level of detail, your eye often reveals many hidden features that you have never spotted before while looking into a mirror.
On to step 3…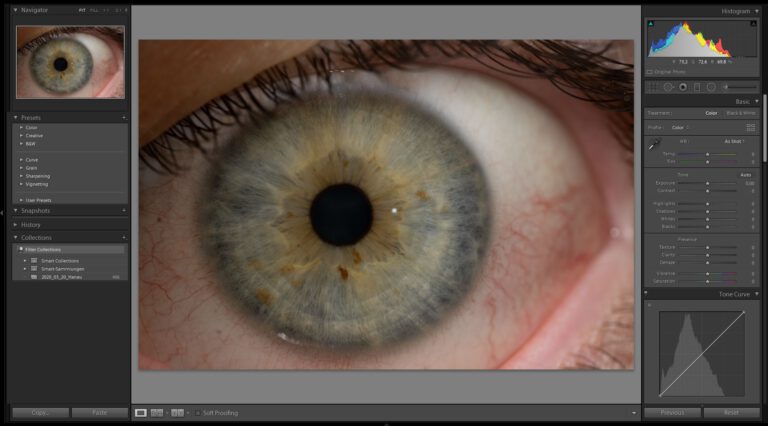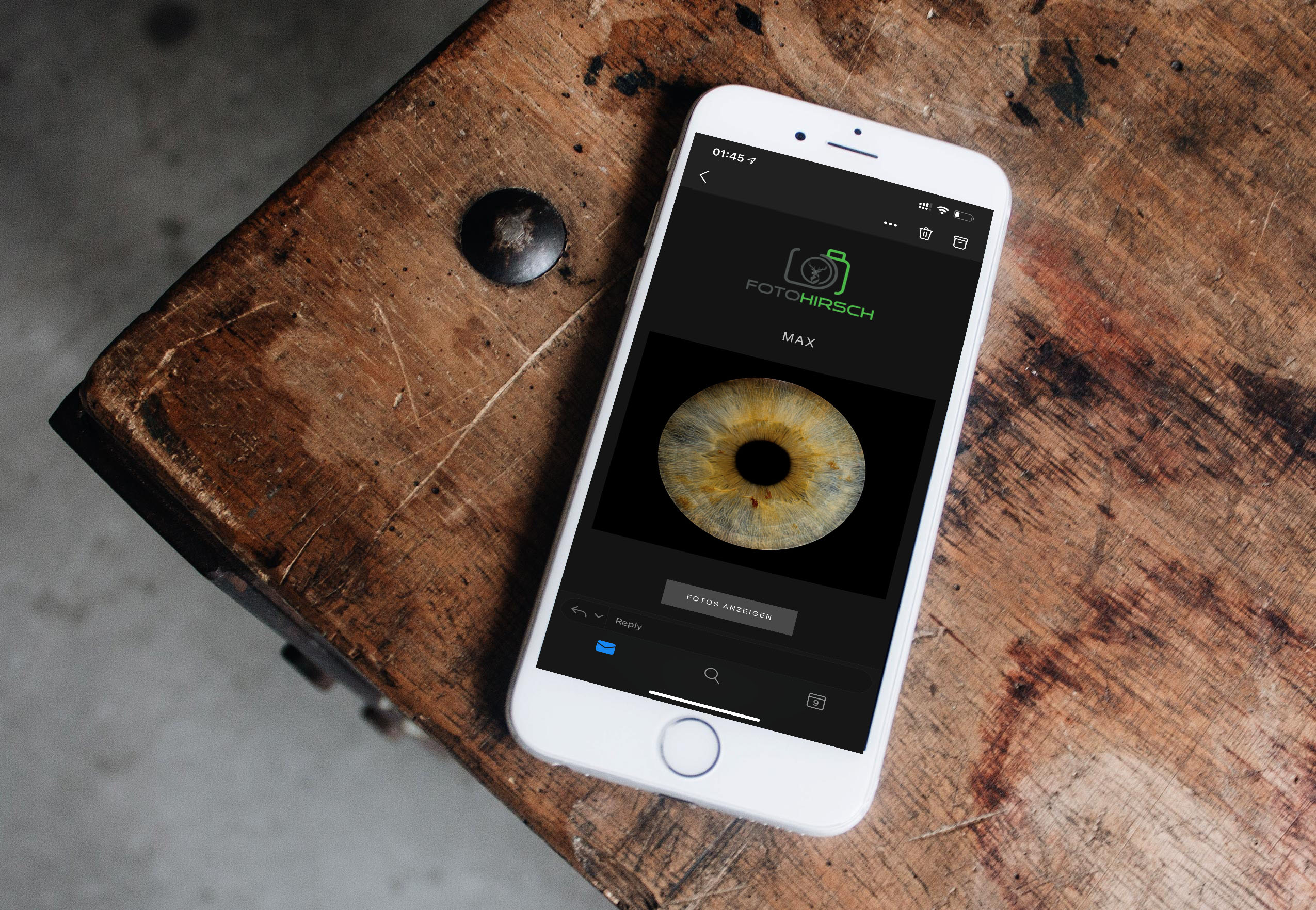 As soon as your iris photo has finished processing we will upload it to a secure online gallery. Only you will have access, which we will send you be email.
From the online gallery, you can download the image, share it directly on social media as well as order fine art prints and artwork to hang up at home. Our professional lab "made in Germany" pritns on Acryl, Aluminium-Composite, Aluminium, Photo-Canvas or PVC Board.
After you order directly through your gallery we will transmit the order to our photo lab.
On to step 4…
After receiving your custom order, we will relay it to the photo lab. We will send you an invoice for the custom work*, and after receiving payment your piece of artwork will be manufactured.
After completion, it will be sent directly to your home. Normally, this takes about one week after receiving the payment.
During the initial photo shoot you can see and touch all available print  materials. We are happy to help you with the selection.

*Please Note: Custom orders are final and can't be refunded or returned.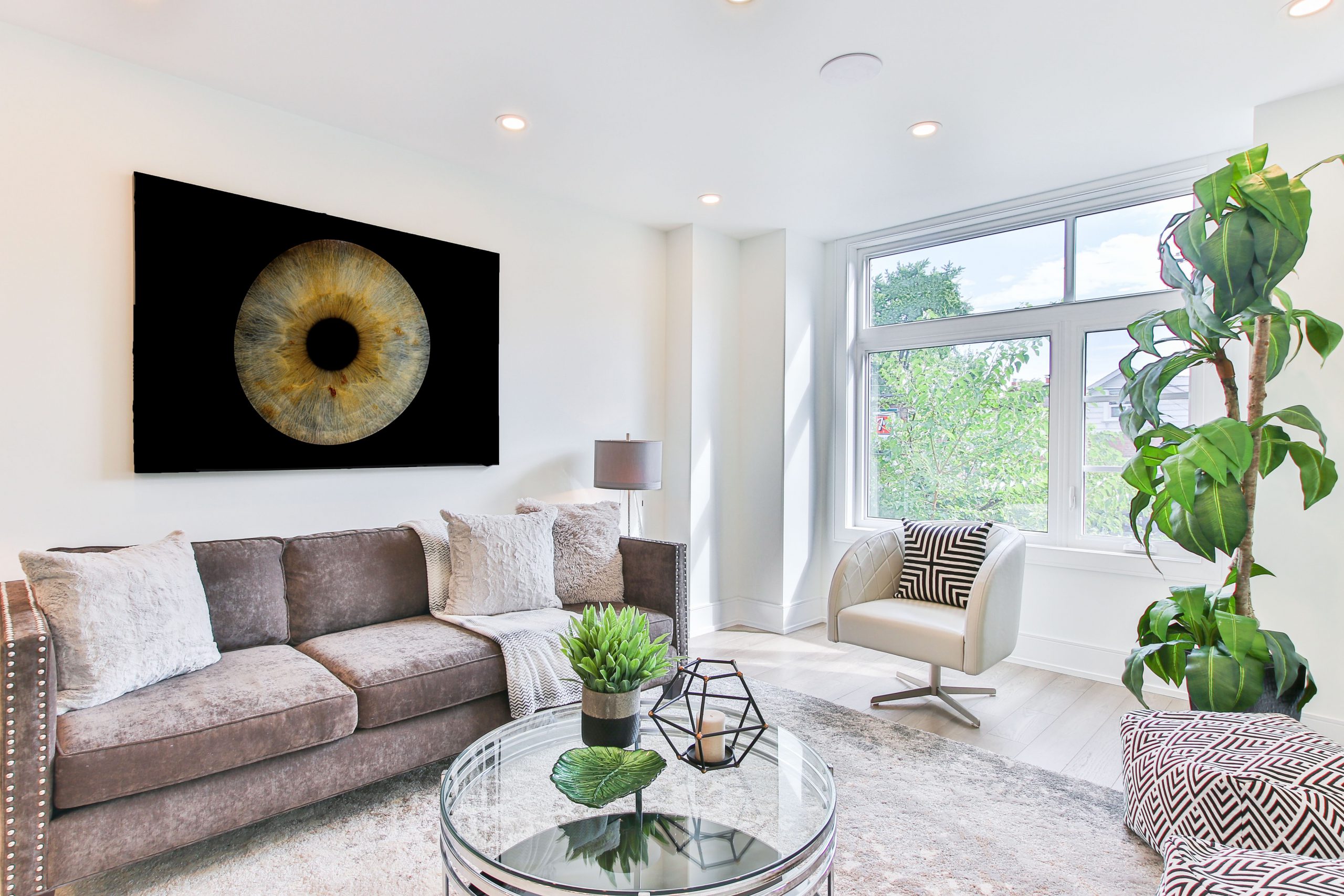 Schedule your appointment now!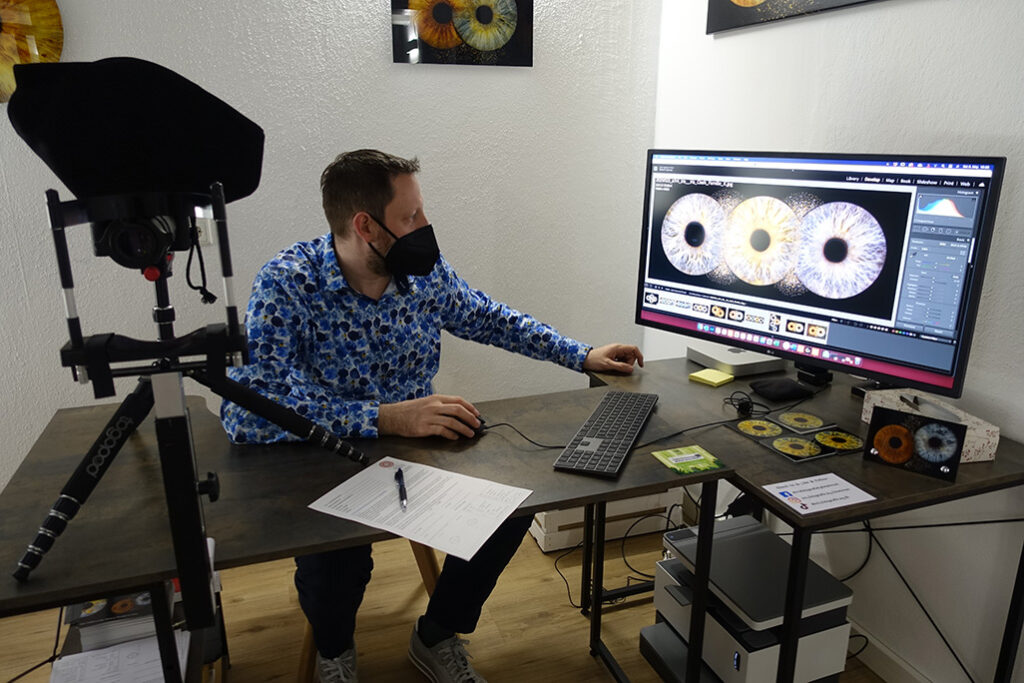 Our team of photographers are not the typical 'studio photographers'.  We prefer to work outside under the open sky and at modern and trendy locations. For us, it's all about giving our clients those great shots – after all,  that's they come to us. We prefer to work without time pressure – our shootings are always relaxed. For you as well as for our team.
Our Principle: QUALITY and EXPERIENCE instead of discount 
We are a full-service photography provider. Our customers are the focus of our efforts. We need the  'perfect shot' and don't mind taking several pictures on the way to get to that one perfect one.
Other competitors, that offer iris photography and advertise that the photo shoot takes less than one minute can't offer the service or the picture quality that we provide.
We use a unique process comprised of many individual steps to enhance the images during post-processing to make sure that your finished iris pictures turn out perfect.
We are working together with two great photo labs in Germany, that will take care of printing and shipping your artwork to you. Our artwork and fine art prints all meet our high standards and are truly "Made in Germany".
We are passionate about photography and are looking forward to creating some great new shots.
All photos are included included as a digital copy. No further purchase is necessary.
In case you are looking to get your iris photo printed, we are happy to accept your print order through our online gallery.
On the following pages you can browse some creative examples of our work.
Single
1 digital photo of your iris
including complex post-processing
DUO
for couples & friends | 2x 1 digital photo of your iris ​
incl. complex post-processing
*All prices include the German VAT / Sales Tax of 19%.
You are looking to get your iris photo printed as well? let us inspire you!
FAQ - Frequently Asked questions